Children's Parties
Book your party in one of our exclusive party rooms. Reserve for 2 hours to include time for painting as well as any food, cake, gifts, or activities you choose to bring in. Pre-select pieces and let your own personal instructor walk you through the painting process from start to finish!
For groups of 6 or more.
Piece Price plus $4.00 per child
Adult Get Togethers
Host your event in a private room, seperate from the rest of the studio. Adults can book for 2.5 hours to have time for socializing, snacks, and drinks as well as painting. Relax, and let our professional instructor guide you through a selection of paints and techniques!
Groups of 6 or more.
Piece Price plus $5.50 per painter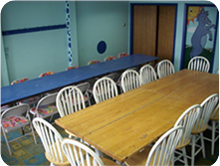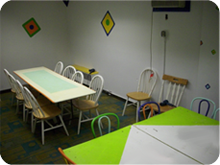 Girl Scouts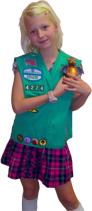 La Terraza is a great painting experience for all ages of girl scouts. Brownies are welcome to join us in working towards earning their Potter's Badge. We also offer an exclusive La Terraza Fun Patch for girls of all ages! They are sure to have an educational and fun experience learning about different aspects of clay and La Terraza. Scouts take 1.5 hours accounting for learning activities and painting. Groups of 6 or more Piece Price plus $4.00 per scout.

Brownie Potters Badge
Find some pottery
Get to know clay
Paint and glaze

La Terraza Fun Patch
Learn slip casting
Discover kilns and firing
Paint and decorate
(optional $2.00 fun patch available in store)
Off Site Events and Field Trips
Plan your event as a special trip to our store, or La Terraza can come to your school, church or organization! Ideal for large groups and events. We will bring all the supplies and pieces and take the mess with us when we go! Time and cost is based on the size of the event and the pottery selected for painting. Call for details.
Great For...
First Communion Chalices
High Interest Days
Class Project
Assisted Living Activities
Work Parties
Holiday Gifts
Empty Bowls
AND MORE!